Skip to main content
It looks like you're using Internet Explorer 11 or older. This website works best with modern browsers such as the latest versions of Chrome, Firefox, Safari, and Edge. If you continue with this browser, you may see unexpected results.
NAIDOC Week 2021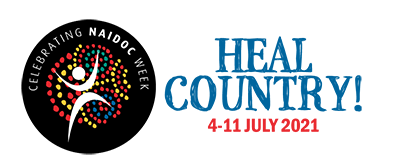 TAFE NSW respectfully acknowledge the traditional custodians of the Country of all locations where our learning activities are hosted. We extend our respect to Elders, past and present, and acknowledge our future generations of Aboriginal people. We also respectfully acknowledge the Country, family and cultural values of our students who travel to join us for a learning journey.
Aboriginal and Torres Strait Islander viewers are advised that this website may contain images and voices of people that have died.
Heal Country
Heal Country calls for all of us to continue to seek greater protections for our lands, our waters, our sacred sites and our cultural heritage from exploitation, desecration and destruction.
Country that is more than a place and inherent to our identity.
Country that we speak about like a person, sustaining our lives in every aspect - spiritually, physically, emotionally, socially and culturally (National NAIDOC Committee, 2021).
2021 National NAIDOC Poster Jigsaw